Why Custom Foot Orthotics?
It can be difficult to know where to start in improving your health and reducing pain. Thankfully, there are tools to help! We now offer screenings using our new state of the art orthotics kiosk. Our kiosk clearly explains the relationship between your feet and your overall health, highlights the benefits of having custom orthotics, and can help you decide which custom orthotics would best fit your personal needs. Visit our office to receive a scan and get one step closer to a healthier body!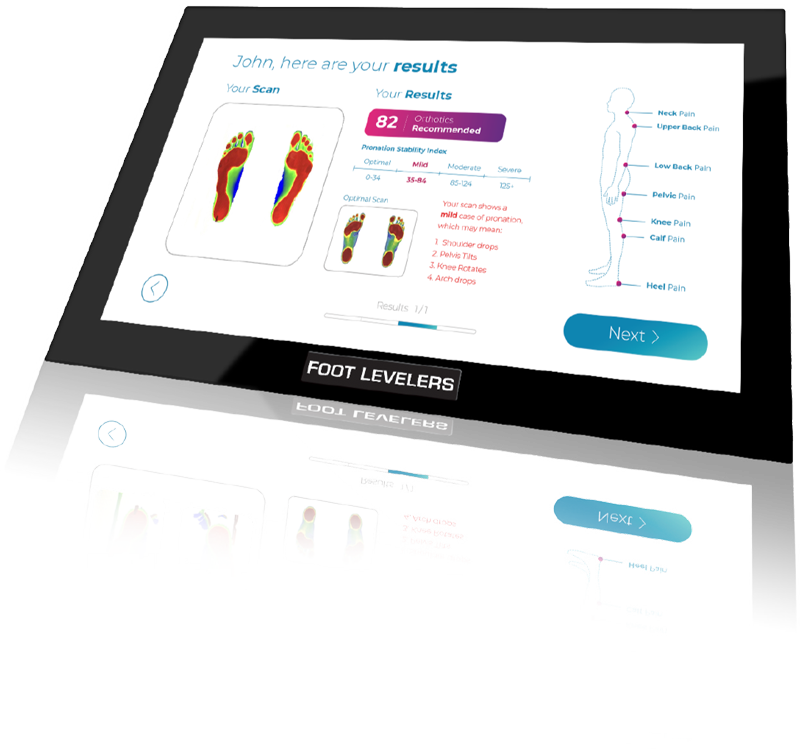 Having a healthier body could start right under your feet.
Your feet have a direct impact on the rest of your body. Being the foundation of your body – your feet support the weight of everything above them.  When a small problem develops in your feet, the noticeable changes in the way you walk will cause a chain reaction of adjustments in your posture and walking mechanics.  As a result in these subtle changes, stress can be put on your joints and lead to more serious issues such as knee pain, hip pain, and back pain.  Our Custom Foot Orthotic will helping in reducing pain and discomfort by improving the body's natural movements.
Contact our Clinic today and book your Custom Foot Orthotic Fitting appointment and ask how Orthotics can help you step away from pain.
Most insurance plans cover all or partial expense of Custom Made Foot Orthotics.
Direct Billing is Available to most Insurance Companies for Chiropractic Services, Massage Therapy, Custom Made Foot Orthotics, and Compression Stockings. We direct bill the following extended medical insurers:
Alberta Blue Cross
Sunlife
Manulife
Great West Life
Green Shield
Industrial Alliance
Desjardins
Equitable Life
First Canadian
Maximum Benefit
Johnston Group
Johnson Insurance
SSQ Financial
Blue Cross
The Co-Operators
NexGen Rx
Manitoba Blue Cross
Cowan
Chambers of Commerce
CINUP